Cardboard Revival: San Fernando Building, Downtown LA represented a cadre of inharmonious interests. Sited in the upscale, developer-renovated San Fernando Building, which is located at the edge of Downtown LA's skid row area, the former 2A Gallery straddled the conflicting realities of urban life. On the one hand, the structure—now filled with chic loft-style apartments--is a testament to efforts to revitalize Downtown LA; on the other, homeless advocates see the project as having taken the area's affordable housing stock away from the people who need it the most.
Borrowing decorative motifs from the San Fernando Building's Renaissance Revival-style and tropes from the urban environs, such as graffiti and cardboard scraps, I transformed 2A Gallery into a site-specific reflection on approaches to housing that share a neighborhood in spite of their ideological incompatibility. With house paint, markers and spray paint, I worked directly on the walls. I combined the gilding and rich hues of 16th century Florence with a humbler palette dictated by life on the streets.
Cardboard Revival denoted a mash-up sensibility that attempted to reconcile a difficult situation within the realm of aesthetics. The exhibition title is a tongue-in-cheek allusion to the sometimes-flimsy success of efforts to invigorate or improve the quality of life in communities. The cardboard is, of course, also a sobering reference to the material often used by homeless people to create shelter.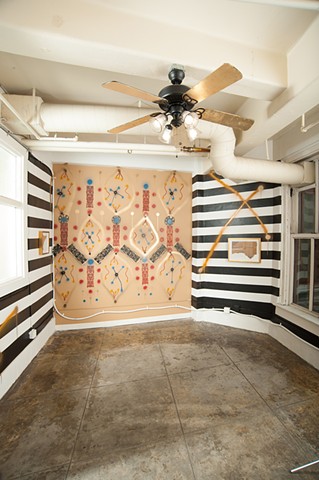 Cardboard Revival: San Fernando Building, Downtown Los Angeles
Site-Specific Installation with house paint, spray paint, marker, gold leaf, and framed works on cardboard
Variable Dimensions
2013