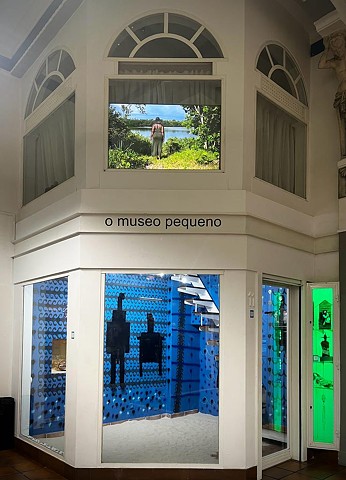 Cardboard Revival: Centro Real, A Coruña, ES
Exterior view of site-specific installation with spray paint, marker, house paint, cardboard, gold leaf, sand and sea shells
Variable dimensions
2022
The piece (bottom space) was the inaugural exhibition at o museu pequeno, a space operated by curator Mar Arbella-Hollingsworth. The show, which took place in November 2022, was a remote experience done in concert with the Inglewood Open Studios 13th Annual Art Walk.The upstairs space featured a video by LA artist Lisa Diane Wedgeworth.
My concept for the exhibition was to treat the space as a vessel in which is held the the complex history of this town by the ocean. In many ways, water has defined this city with its beaches and port, history of nautical and fishing peoples, the boatloads of invaders, waves of immigrants (mostly African and South American), the lighthouse, and its present-day draw as a summer retreat for tourists.
I referenced several cultural and historical design motifs for waves, including Romanesque, Pre-columbian, and African. I also incorporated a Celtic Compass Rose design, which is another reference to nautical life and wayfinding—a tool that has been equally essential to the fisherman, the refugee, and the colonial conqueror. This piece is the fifth iteration of my Cardboard Revival Series.